Welcome to the party!
About Me:
Welcome to KreativeKaring and thanks for taking the time to visit! I'm fairly new to the blogging world and am excited to be participating in the Ultimate Blog Party for the first time!
My name is Samantha and I've been blogging for a little over a year, and so far I love it. I would suggest blogging to anyone, it's a great

stress reliever

,

organizer

, a place to get

advice

,

support system

, and a great way to

connec

t

with new people!
My boyfriend of 5 years, my little dog, Jake, and I live in Maine. Our goal is to hopefully buy a house in the next few years and start a family. I love my boys!
I'm in my 20's and even though I don't have children, I enjoy blogging about parenting because it's been the field I've enjoyed working in for over 9 years. Plus, what mom doesn't like

recipes

, taking

pictures

, and finding

free samples

, some of the

other things

i like to share?
I signed up to be a Blog Party Sponsor! You have the chance to win a Maine Hand Crafted Log Cabin Birdhouse! It has an easy open top to pour bird seed in, and windows so you can see your little friends. To ENTER for the Log Cabin Birdhouse, you must fill out a PRIZE ENTRY FORM. You have until the 8th to fill it out. See the Full Ultimate Blog Party Prize List for the list of all the prizes!
Thank you so much for stopping by! Don't forget to visit other bloggers who are partying this week and leave a comment on the main party blog. You'll be entered to win a bunch of prizes!
Want to swap buttons? Here's my button you can grab to help show your support for Kreative Karing. If you want to leave me your link, I'll put your button up under Blog Party Buddies!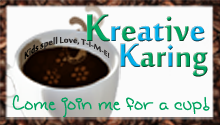 The prize that I really like is,
A $100 gift card to Target and a copy of Totally Desperate Mom Provided by: Wendy Hagen, author of Totally Desperate Mom. The book looks really interesting!
If that's not available, I'm happy with anything!
Just winning would be awesome!
Thanks for stopping by, hope you can visit again soon!
Leave me a comment with your blog address letting me know you visited or followed so I can visit and follow you back!