Welcome to the party! This is my third year participating in The Ultimate Blog Party hosted by 5minutesformom! It's so much fun! This is also my third year sponsoring a prize. Keep reading for more info!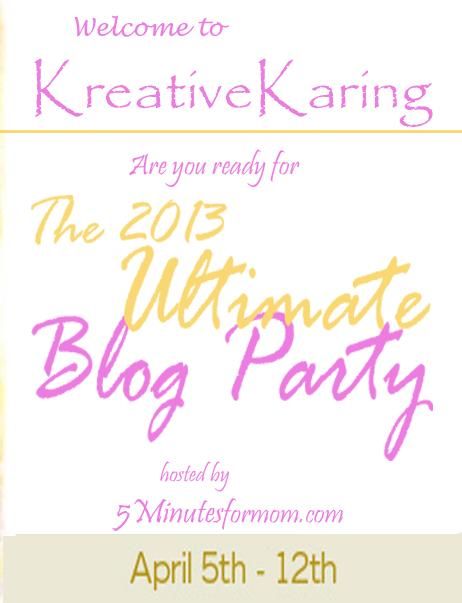 A Little About Me
Welcome! I'm so glad you could make it! My name is Samantha, and I've been blogging for about 4 years now.
I love blogging because it's a great way to connect with others, to express myself, and share my interests.
I live in southern Maine with my hunni, Scott,

(it'll be 7 years in Sept!)

and my little dog, Jake

(who is also 7)

.
I love my boys!
Welcome to KreativeKaring!
I've enjoyed blogging about:
child care
,
photography
, sales, saving money,
donating
, Things I kare about, sharing things I think others will want to see, how to have a less stressful holiday, how to get free samples and deals, etc. This is totally an
ADHD
eclectic blog!
Here's some of my photography work:
What do I do when I'm not blogging?
I blog between
3
jobs. I am an activity aide for a nursing home, I provide child care in the mornings, and clean houses for myself on the side. I also love to listen to music, sharing great deals I find, and helping others when I can, and plenty more. See why I couldn't just write a blog about one thing?
Recently I started a group on Facebook to let others know when there are freebies and samples that go quickly. I post freebies and deals on there more often than on my blog. I encourage you to join!
You can also look for me here:
I'm excited to announce that I'm sponsoring a "Date Night Package" for one lucky person.
Package Includes: $25 Applebees Gift Card, "The Mechanic" DVD, Werther's Candy, Hershey's Candy, KitKats, Reese's Popcorn, KY, gum, perfume sample.
ENTER HERE
And A big
THANK YOU
for stopping by!

Feel free to leave a comment with your blog url, so I can return the luv!
I hope you enjoy the rest of the Ultimate Blog Party!